When it comes to electric vehicles (EVs) charging, there's a lot to consider in terms of power management. That's why electricians, operators, and proprietors need to be aware of the various load-balancing options for EVs. Here's a quick explanation of what load balancing is and how it can keep your EV network running smoothly.
What is electric vehicle (EV) charging load balancing?
EV charging load balancing is an advanced energy management system for EV charging in commercial and apartment buildings. It optimizes the ability to charge multiple EVs at the same time based on real-time data collected from connected chargers and building infrastructure.
As EV usage changes throughout the day, load balancing helps reduce strain on the building infrastructure by managing the EV's load. By actively monitoring site and charger load, in real-time, the system ensures that all EVs receive sufficient charging power while maintaining the highest degree of efficiency.
Dynamic vs. Static Load Balancing
When it comes to optimizing the efficiency of electric vehicle (EV) charging, it is important to consider both dynamic and static load balancing. Static Load Balancing (SLB) relies on a predefined, static, site power allocation. It does not take into account changes in non-EV usage, which would require additional curtailment to prevent overloads.
Dynamic Load Balancing uses a current meter to constantly measure the available site power and adjust resource allocation in real-time as needed. This allows for better allocation of power to reduce any risk of overloading the network while also providing operational cost savings.
How can you implement load balancing in your parking lot?
Implementing load balancing in your parking lot is an excellent way to maximize your site capacity. Any OCPP (Open Charge Point Protocol) capable charger can connect to a cloud-based Charge Point Management System (CPMS). The CPMS enables the coordination and configuration of all chargers and manages their energy use. This allows for easier oversight and optimization of charging operations, reducing downtime and providing flexibility to control peak demand times as needed. With load balancing, you'll be able to provide increased charger capacity to your customers without blowing a fuse.
Wevo Energy's DLB implementation
The Wevo CPMS platform has strong dynamic load-balancing support with the following key features:
Hierarchical load management – Installers and operators can easily define and implement the full site electrical topology (Panels, Sub-panels, chargers, etc) including amperage limits for each panel and charger. The system will use this information when managing the chargers to avoid overloading any circuit.
Works with every charger – Wevo's platform is one of the few systems globally to have received the prestigious full OCPP Certification. This is a testimony of the platform's quality and ability to work with any OCPP-certified charger.
Wevo Energy's platform is one of the few to have been certified for both OCPP and OCPP Security
Static and dynamic load balancing support – Use static load balancing by assigning static limits to each panel. This is effective when residual (non-EV) loads don't fluctuate much throughout the day. Activating Dynamic Load Balancing (DLB) is simple: just add a meter and point it to the Wevo platform.
Dynamic Load Balancing using a sub 150 EUR meter connected to the Wevo platform
Delayed charging with boost support – A site can be configured to prioritize off-peak charging aligned with Time-of-use tariff. This feature is frequently used in apartment buildings for overnight charging. When configured, charging will be delayed to nighttime, when the electricity rates drop. The system will then ensure all EVs are fully charged in the morning. Drivers can always charge immediately, at extra cost, by pressing the 'Boost button' on the mobile App.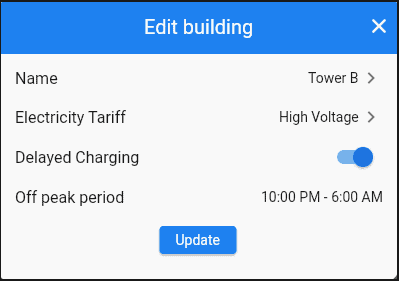 The Wevo platform is electric tariff aware and can enable deleyed charging on a per building basis
Full, real-time, transparency – The Wevo platform provides a rich interface showing real-time and historical data. As shown in the image below:

The Hao St 6 site has four electric panels, 3x40A each.
Panel 6-03 has three vehicles connected and charging: a single phase vehicle, a three phase vehicle and a dual phase vehicle
Due to the constrains of the parent panel, chargers have been energy managed to 13A each.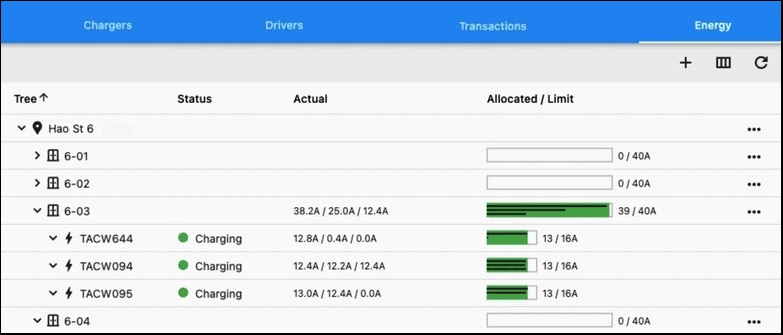 Wevo's 'Energy View' shows real-time energy allocation (green) and actual usage (black lines)
Case study: how TLV Towers saved money with Wevo Energy's Dynamic Load Balancing
TLV Towers, a premium residential apartment complex, recently improved in their energy usage and costs thanks to Time of Use (TOU) Tariffs and Dynamic Load Balancing (DLB).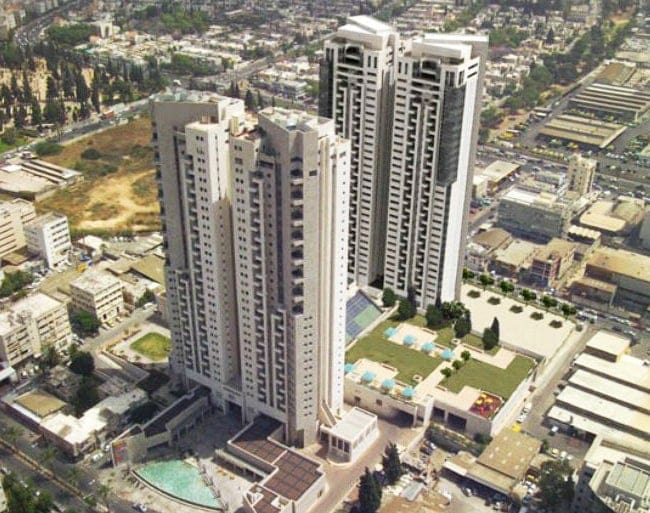 Using the Wevo platform, residents were able to access cheap electricity by shifting charging to off-peak hours. This resulted in over 40% EV cost savings. The entire four-story parking lot is fed from a single 3x40A panel, without requiring expensive capacity upgrades.
This enabled residents to get more savings without compromising satisfaction and comfort. Ultimately, TLV Towers proved that managing EVs can be beneficial in both financial and environmental terms.